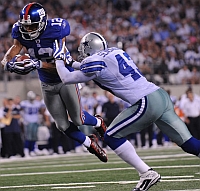 Wow another tough week for yours truly. I have only 5 right so far this week which puts me in the bottom 15 of the pool. Next week if you really want to do well, review my picks and take the exact opposite! With one game to go there are three people tied with 11 wins – they are KVD, Mark Matosian and I am very happy to say my Dad. It's interesting that all three people took the Cowboys tonight so if the Giants win there will be a seven way tie that includes week five winner Patricia.
Reminder we have added a few things for you to follow along and enjoy the fun. We have an updated leader board located on the right side of the main page of the blog that updates every 30 minutes during the games and within that page you can see the results from the prior weeks.
Here is a link to see the scoreboard.
The seventh week we had 168 (the highest so far in the pool) participants so the winner this week will receive $75. Remember the weekly winners will be given a spot in the grand prize pool which will be in week 17. That person will join Sarah Baird, Jacob Adler, Jennifer Acosta, Mike Perdue, Jessica Cons, Patricia Wakim and Amy Sawyer for bragging rights for the next 6 months.
Here is a link for you to do this week's picks.
Feel free to share the link and have friends, colleagues, relatives, kids and anyone else you want join the pool.
Good luck to all.