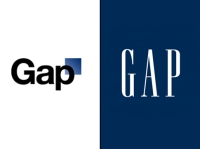 A few weeks ago I had the opportunity to be the kick off speaker at the A.C Nielsen Center for Marketing Research Alumni Summit held at the University of Wisconsin in Madison. It was an honor to be one of their speakers and I truly LOVE the passion and energy of the program. During my speech I discussed the new and old Gap logo. If you missed the story basically Gap decided to change their logo the middle of October and because of an overwhelming distaste for the new logo they quickly changed it back to the old logo. So in essence the old logo changed to the new logo then the new logo became the old logo and the old logo became the new logo in a span of 24 hours – ok wow that was hard to say and perhaps hard to follow.
A few takeaways:
This happened very quickly! Gap was able to get tremendous reaction (in this case negative) to something they did

They were able to very quickly make a decision, change it back and overcome their mistake

Because of the social networking power these days the consumer has NEVER had a louder voice
Listening to the consumer is SO important, perhaps more important now than ever because of the way word travels so, so quickly. As researchers that is good news, perhaps great news. The reality is the research industry needs to continue to make sure what we deliver, how we deliver it and the speed in which we deliver it exceeds client expectations on every level.
Clearly Gap turned a bad situation into a good one. If I was their PR agency my message would be simply
"WE LISTEN TO OUR CUSTOMERS"

"WE CARE ABOUT WHAT OUR CUSTOMERS THINK"

"OUR CUSTOMERS MAKE A DIFFERENCE TO US!"
Here is an interesting thought and twist –
What if it was planned all along?

What if they said hey let's go for it, if our customers don't like it they will tell us and we can/will change it back and be heroes because we listened to them?
Just a thought.
What do you think?

Am I crazy?

Isn't it amazing how fast things are moving these days?

Isn't it more important than ever to listen to your customers?
I look forward to hearing your thoughts and comments.