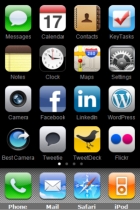 It really is so funny how things change. Growing up when you heard the word "app" you would always think about appetizers (at least I did), now years later it means something very much different.
You won't believe this but there are now well over 200,000 apps available for iPhone, iPad and iPod touch, and, surprisingly, many of the best are free.
Some of the more popular are:
Facebook

Twitter

Dropbox

Thetrainline

Wikipanion

Kindle
So I ask you
What is your favorite App?

Do you ever pay for Apps?

What is the ONE App you can't live without?
I look forward to reading your comments.