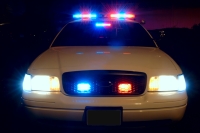 Have you ever gotten pulled over for a traffic violation? While the officer is writing out the ticket do you wonder why me? I was going the flow of traffic so if I was speeding then everyone is speeding. So again why me? Why did the officer pull me over? Was it the kind of car I drive? Was it the color of my car? Was it because I am young? I am sure all of us have been pulled over once in our life and perhaps thought about those exact things and said why me!
I was reading an article the other day that may answer a few of those questions.
Quality Planning, an auto insurance analytics firm, examined a year's worth of traffic-citation data to rank cars that are most and least likely to be cited for traffic violations. I found the information very interesting. I wasn't surprised that three different Mercedes-Benz Models made the top 10. I believe that the combination of people who have a Mercedes-Benz drive faster than most and also that police officers target expensive cars puts them on the list. The same is true about a Hummer. I was surprised that the Scion made the list with two models and SHOCKED to read that females had a higher percentage of tickets than males in 7 out of 10 categories. Here is more data:
Violation-prone vehicles

Make

Model

Body style

Violations per 100,000 miles driven, expressed as a percentage of average

Average age of cited driver

% cited drivers who are male

Mercedes-Benz

Convertible

404%

53

41%

Toyota

Coupe

349%

50

39%

Scion

Coupe

343%

30

39%

Hummer

SUV

292%

46

73%

Scion

Hatchback

270%

37

40%

Mercedes-Benz

Sedan

264%

46

58%

Acura

Coupe

185%

33

60%

Pontiac

Sedan

182%

40

41%

Mercedes-Benz

Sedan

179%

47

44%

Volkswagen

Hatchback

178%

40

44%
What do you think of the data?

Do you happen to drive one of the cars on this list?

Do you think that certain cars or colors are targeted more than others?

Do you have a funny traffic violation story that you would like to share?
I look forward to reading your comments.