I am sure all of us have had trouble buying a gift for someone and no doubt it will happen this month. The question is what do you do about it? If you are like me you scratch your head a few times and then come up with the clever response a gift card! I was reading an article recently that highlighted the top 20 gift cards that I thought I would share and actually comment on. The list was compiled by Giftcardrescue.com and had 6,000 people interviewed from January to October 31.
Before you review the list think about retail stores, your purchases and any gift cards you might have bought in the last year.
Here is the list: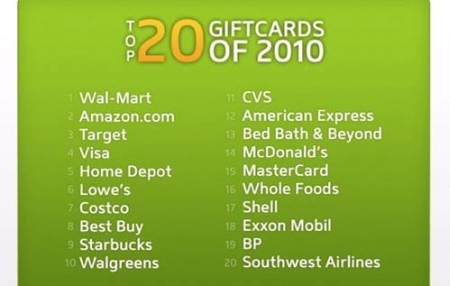 A few comments:
How is Starbucks NOT number 1 or at least in the top 3?

How did BP, Shell and Exxon make the list?

I thought Best buy would be in the top 3

Amazon and Wal-Mart are no surprise and I thought for sure they would be in the top 5

I can't believe Barnes & Noble didn't make the list?
Ok now your turn.
What do you think of the list?

Who is missing?

When you give out gift cards what stores do you usually buy them from?
I look forward to hearing your comments.