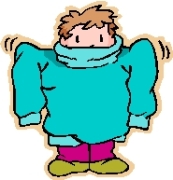 A few weeks ago I must admit I got a big chuckle. As I came around the corner and said hi to my oldest son I took a double take. I almost said wow – I have a shirt like that and then REALIZED that was my shirt! For the first time he was wearing my clothes and funny the shirt almost fit perfect. My son isn't a big guy but he certainly is growing up fast and I wonder if this is a trend that will continue.
Do your kids wear your clothes?

Do you actually buy clothes for yourself with them in mind?

Does it bother you when they wear your clothes?

Do you share jewelry with your daughter?
I actually felt good that he was wearing my clothes. Of course he can't fit into my shoes or suits (thankfully) but I have a feeling that shirts will be common property and I am ok with that!
I look forward to reading your comments.