All of us get tons of emails and within those emails there are ones that have more importance than others and some that are very simple but because I tend to look at things a little different that can have some big meaning for me.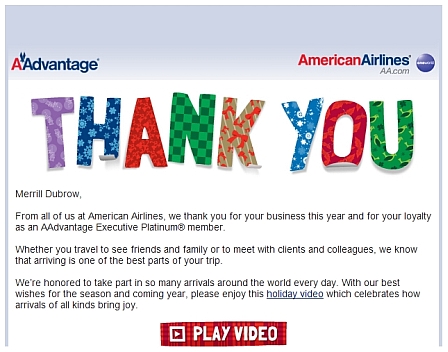 One of those emails is this one that was from American Airlines and the subject was "Merrill, Thank You For Your Loyalty". I really like this email and especially the word "loyalty". Don't we all want loyal friends, family, colleagues, clients and the same is true about products and services they want OUR loyalty.
I thought about that word in terms of products and services and within 30 seconds came up with 5 that I am loyal too and they are:
Coke – I love soda and specifically coke in a 20 ounce bottle

American Airlines – yes it is easy to be loyal to them since I live in a city where they have a hub – regardless I like the airline and feel the customer service and awards programs are very solid. In addition they have helped me out and waived some fees in the past when they really didn't need too.

Cape Cod Potato Chips – maybe I am loyal because I am from Massachusetts and it something that brings me back to a happy place. I really love their chips and given the choice of 1000 different chips I would always choose name regardless of price

BMW – I really like the car, the performance and service. I have had 3 different ones and next year it will be a 4th!

Lucky Jeans – I really like the brand, how they feel and the look.
Ok your turn:
Do you like the word loyalty?

What brands and services are you loyal too?

Of those companies do you care about price or not at all?
I look forward to your comments.