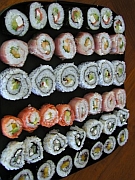 For those of you who know me well understand how much I love to eat. I truly enjoy a good meal and most days are filled with a big lunch. Lots of days I will walk out of my office with some team members and the conversation will go something like this:
Merrill – where would you like to go to eat?
Others – not sure what are you in the mood for?
Merrill – anything but I would rather not eat sushi!
Ok I will stop there and NOT bore you with anymore details. I am not a fish eater but do love all shellfish. So I say bring on lobster, crab and shrimp all day long! Over the years I have tried sushi and I must admit it is ok! Yes I said it! And yes I actually believe it! Maybe 2011 is the year I make a change with regard to sushi and really try it.
So I need your help…….
For a person who doesn't really like fishy smells or tastes what should I try?

What restaurants would you recommend?

What is your favorite roll?

What sauces (sorry if that isn't the right term) do you put on the rolls?

How long have you enjoyed sushi?
Thanks in advance for your help – I look forward to reading your comments.