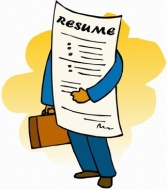 Over the past few years I have looked at a lot of resumes and cover letters. I have noticed a number of words like innovative, team-player seem to be on everyone's resume. Because of that I found a recent article very interesting that I thought I would share. The article focuses on a piece of research that LinkedIn had done with 85 million users to come up with a list of the most overused words and expressions with regard to resumes.
Based on that research here is the list of Top 10 overused buzzwords in LinkedIn Profiles in the USA for 2010:
Extensive experience

Innovative

Motivated

Results-oriented

Dynamic

Proven track record

Team player

Fast-paced

Problem solver

Entrepreneurial
I thought the list was very interesting. Most of these words are used over and over and frankly some of them I really like. Words like results-oriented, team player, motivated are words that I look for to get passed the screening process and those are also qualities I try to focus on while I am interviewing a candidate.
If you are hiring staff what words/phrases do you like on the list?

What words/phrases turn you off?

If you are looking for a job what words/phrases do you use?
I look forward to reading your thoughts.