Everyday millions of people rely on their alarm clock to wake them up. I know I hit my snooze button a few times and perhaps you do as well? I got an email last week (thanks R.W.) that had a number of funny, effective and irritating alarm clocks that I thought I would share:
Bouncing Soccer Alarm Clock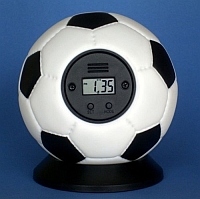 This alarm clock won't turn off until you throw it against the wall. Cute idea sort of but I would be VERY afraid that I would break a window! If you like this one it can be purchased for $19.79, amazon.com
Clocky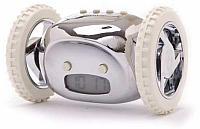 I love the concept of Clocky. Once you hit the snooze button Clocky jumps down and rolls around on the floor forcing up to get up until you turn it off. Clocky sells for $39-45, nandahome.com
Flying Alarm Clock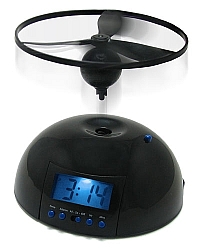 Once this device launches its flying propeller, you have to catch and click it back into place to stop the beeping. Are you kidding! No chance I would ever buy this one. If you want it $19.99, thinkgeek.com
Coin Bank Alarm Clock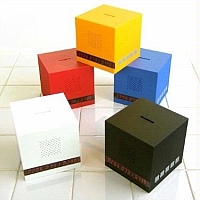 You have to pop a coin into this cube-shaped clock before it turns off. Like most of us have coins on the night stand just hanging around to feed the alarm clock! This is available for $69.99, gizmine.com
Sonic Bomb Alarm Clock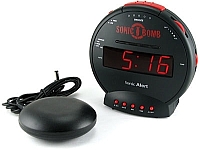 How about waking up to this LOUD noise! The Sonic Bomb blasts up to 113 decibels. Trust me this is loud – feel free to purchase this clock for $42.95, sonicalert.com
Peaceful Progression Wake Up Clock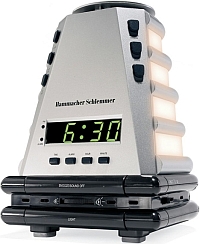 Hammacher-Schlemmer's Peaceful Progression clock eases into the wake-up with a mix of lights, aromatherapy scents, and gentle nature sounds that intensifies over time. $69.95, hammacher.com – ok kind of an easy way to wake up!
Clearly there were some crazy and who knows effective alarm clocks.
What was your favorite?

Do you own any of these?

If you had to buy one which one would it be?

How many times do you hit the snooze button before you get up?
I look forward to reading your comments.