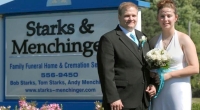 I must admit I was a little shocked to read in USA Today last week that funeral homes were now being rented out for:
Birthday parties

Anniversaries

Holiday parties

Proms
And weddings – yes weddings. First of all I love the creativity of the funeral homes for looking at different revenue streams. With the economy being what it is all business executives need and should do this. But a funeral home?
One of the funeral halls that was mentioned in the article hosted 10 weddings in 2009 and in 2011 has already 99 booked. WOW – lots of words come to mind: I am surprised, blown away with those numbers, have NEVER been invited to a wedding at a funeral hall, don't know anyone who has and frankly not sure what I would do if I was invited!
What do you think?
Have you been to a nontraditional event at a funeral home?

Would you consider getting married at a funeral home?

How comfortable would you feel at a funeral home wedding?
I look forward to hearing from you.