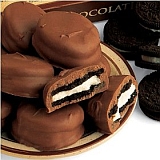 Since it is the beginning of a new year that means that lots and lots are people are now going to the gym and probably on a diet. Well today let's forget about the diet discussion and go right to the:
"Hey I want something sweet"
"Hey I need to reward myself for being good"
"Hey one little candy bar or brownie won't really make a difference"
Discussion! As you know I love sweets (thanks mom!) and lots of different kinds. Some of my favorites are:
7 layer brownies!

Kit Kats

Chocolate covered Oreos (thanks PW for making sure they are always in my office refrigerator)

Hot tamales – doesn't everyone love hot tamales?

Charleston Chew

Pecan Pie
Mmmmmmmmmm mmmm good! Wow – thinking about those treats make me feel like going to a vending machine right now!
So I ask you when you are craving something sweet what are you eating?
I look forward to hearing from you.