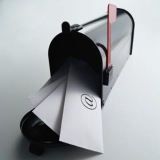 A few weeks ago my friend Steve S asked me what I thought of the look of his invitation and if I was going to be able to attend his company celebration. I said I don't recall seeing anything and asked him about the dates. Even though I couldn't make it I was curious. I searched and low and behold his invite was caught in my spam filter. Looking closer at the invite I mentioned to Steve and his colleague Amber the problem was they should avoid using the word party in the invite because I am sure that was the cause of the email never getting to me.
I was curious as to how many emails get caught in my spam filter daily. The number was truly amazing. I assume I get about 200 emails a day and my spam filter trapped another 272 emails. Yes you read that right – 272 emails or 57% never made it to me!
This gave me a chance to pause and think about building a list of words we shouldn't use in marketing campaigns. Of course I will leave out the obvious ones like Viagra, sex etc.
I did a little research and here are 12 words and phrases that you should stay away from:
#1

100% satisfied

Amazing

Congratulations

Guarantee

Marketing solutions

Never

Opportunity

Performance

Solution

Special promotion

Success
A few of these words/phrases like amazing, solution, success surprised me. Lots of companies in our industry are still using them and based on spam filters shouldn't moving forward. All of us should avoid using these spam filter trigger words in our e-campaign subject line if we can. Be creative, and find a different way to say your message!
What words on the list surprised you?

What words/phrases are you using that give you the best success?

How successful have your E-Campaigns been?
I look forward to reading your comments.