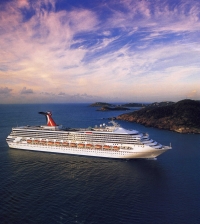 A few weeks ago I was having a conversation with some friends regarding vacation spots and they were saying they were excited about taking a cruise. They pointed out they love taking a cruise because there is something to do on the ship for everyone, you can go to a number of different islands in a span of a week, you can eat a ton and even gamble!
They ended with a big statement who wouldn't like a cruise! My answer was ME! I understand all of their points and agree that there is a ton to do on a ship and yes you can see 4-5 islands in a short amount of time. Yes they have a open buffet pretty much 24/7 however I haven't found the food to be that good. On the cruises I've been on I thought the entertainment was very weak not to mention the fact that I could never find a deck chair and my cabin was really small. In fact way too small for my liking!
I noticed a number of new ships are scheduled to make their Maiden Voyage in the next six months. That list includes:
Marina – Jan 22

Disney Dream – Jan 26

Carnival Magic – May 1

Seaborn Quest – June 20

Costa Favolosa – July 7

Celebrity Silhouette – July 23
Clearly with 6 new ships there is a huge demand for people to take a cruise.
Are you a cruise person?

What is the one reason you love to take a cruise?

What ship would you recommend?

What is your funniest cruise story?
I look forward to reading your comments.