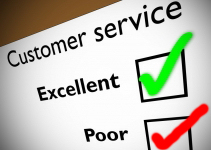 A few weeks ago I called to order some new cable service and the person I spoke to, Pat, couldn't have been any nicer. She gave me a number of different choices, she wasn't rushed at all and reviewed all of the information at a good pace. She answered all of my questions and frankly – she was awesome the experience was fantastic – couldn't have been any better and the call ended when I signed up for my new service. A week goes by and I have a few questions about the system and as luck would have it a Pat answered the phone. I said I wonder if you were the same Pat that helped me a week ago. After she checked she did confirm she was the same person who helped me. This experience was totally different. Pat was in a foul mood for sure and I felt from the start that I was bothering her! Like I was wasting her time! She was short and almost rude. I couldn't believe this was the same person who I spoke to a week ago!
It made me think what a difference a week makes!
Shouldn't the service be consistent from one week to another?

Did Pat do a bait and switch? Was she nice until I signed up and then couldn't care less?

Do you think more training would help Pat?

Have you run into a similar situation?

What training do you give your staff to ensure your customer service is always at a high level?
I look forward to reading your comments.
PS – In my opinion a week, month or even a year shouldn't make a difference – companies and staff should always have the highest level of customer service 365 days a year!