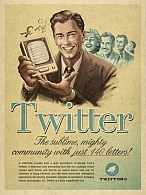 Yes Twitter has gained tremendous traction and everyone seems to be tweeting. People tweet on their way to work, in a cab, in the bathroom, in a restaurant — it seems that everyone is tweeting BUT what if the future is EVERYTHING tweets? Not just humans — I have looked into the future and here are some of the tweets I will be getting down the road:
Merrill, you put on 3 pounds last week. Fred- Your scale

Your patient Merrill Dubrow put on 3 pounds last week. Fred- Your Scale (Sent to my doctor)

Good Morning, Merrill. Did you know your son drove 95 mph in your car last night? Neil- The Car

Merrill, you are out of eggs, milk and soda. Betty- The Refrigerator

Merrill, I am a little dry. Can you please give me some water? Iris- The Plant

Merrill, if you continue to drive this fast, I will have to give you a speeding ticket. Neil- Your Car
I TRULY BELIEVE ALL OF THIS CAN AND WILL HAPPEN!
What do you think?

Am I crazy?

Do you believe you will get tweets from appliances? Plants? Your car in the future?

If tweets could help you remember things and enhance your life what tweets would you like to get?
I look forward to reading your thoughts.