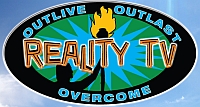 Reality TV is huge. Yes I watched Survivor the other night and yes many of my friends won't miss an episode of their favorite reality show. And yes it will probably be only a month before Charlie Sheen has his own reality show. I don't to talk about that but I do want to talk about reality TV in the research industry.
Hey TV writers and producers what about these future reality TV hits:
The Life of An Interviewer! Most of us are chuckling at this point because we started as an interviewer and most of us including myself did crazy things and interviewed some "crazy" people but you don't think Hollywood can make The Life of An interviewer a hit!

The Birth of A Product! This show could be a classic highlighting the importance of research and how much we have saved big business over the years by not moving forward with products.

The Art of Mystery Shopping – I guess they sort of do this with Undercover Boss – so perhaps one of the networks borrowed my idea.
And of course the classic…….
My Life As A Moderator! – This show would be an instant hit and we could incorporate all the travel woes, preparing to be a rock star, handling unruly respondents, the client debriefing and much, much more!
Ok your turn – after you stop laughing please let me know
What do you think of my choices?

What reality research shows would be a hit?
I look forward to hearing your thoughts.