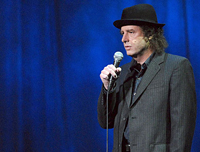 How About You Start The Day With A Big Or Small Chuckle!
Yes, it is Friday and yes, it is time to take a quick break and hopefully laugh! Here is a list of 8 one liners (thanks S.S. for sharing) from Steven Wright, one of the funniest and cleanest comedians around!
1. Half the people you know are below average.

2. I almost had a psychic girlfriend, but she left me before we met.

3. How can you tell when you're out of invisible ink?

4. Depression is merely anger without enthusiasm.

5. When everything seems to be coming your way, maybe you're in the wrong lane.

6. I intend to live forever… so far, so good.

7. If Barbie is so popular, why do you have to buy her friends?

8. My mechanic told me, "I couldn't repair your brakes, so I made your horn louder."
Maybe it is just me but I think Steven's sense of humor and delivery is hysterical. My favorites are numbers 3 and 7 – he is so clever!
Have you ever seen him perform?

What is your favorite one liner?
I look forward to reading your comments.
PS – I hope this brought a smile to your face!