Yes the world is changing and yes it is changing fast. What also might be changing is the way that we view how important people are. In the past, companies base the importance on their loyalty programs well the future might be different. Do you have a Facebook page? Do you have a Twitter handle? If you do you want to go to klout.com and see what your Klout score is. Ok before I get into why it might be important here is what their website says about a Klout score……
The Klout Score is the measurement of your overall online influence. The scores range from 1 to 100 with higher scores representing a wider and stronger sphere of influence. Klout uses over 35 variables on Facebook and Twitter to measure True Reach, Amplification Probability, and Network Score.
True Reach is the size of your engaged audience and is based on those of your followers and friends who actively listen and react to your messages. Amplification Score is the likelihood that your messages will generate actions (retweets, @messages, likes and comments) and is on a scale of 1 to 100. Network score indicates how influential your engage audience is and is also on a scale from 1 to 100. The Klout score is highly correlated to clicks, comments and retweets.
We believe that influence is the ability to drive people to action — "action" might be defined as a reply, a retweet, a comment, or a click. We perform significant testing to ensure that the average click-through rate on links shared is highly correlated with a person's Klout Score.
If you check in to the Palm Hotel in Las Vegas they will base your perks (better room, free show tickets, etc) on your Klout score. I imagine their reason is they want to ensure they take care of their MOST social influential guests knowing they will share their amazing experience with their social network.
My current klout score is a 29 and here is what they say about me:
Merrill Dubrow is an Explorer
You actively engage in the social web, constantly trying out new ways to interact and network. You're exploring the ecosystem and making it work for you. Your level of activity and engagement shows that you "get it", we predict you'll be moving up.
Merrill Dubrow is influential to a tightly formed network that is growing larger.
Merrill Dubrow engages with a good mix of influencers and friends
Merrill Dubrow is more likely to have their message amplified than the average person
Merrill Dubrow has a small but tightly formed network that is highly engaged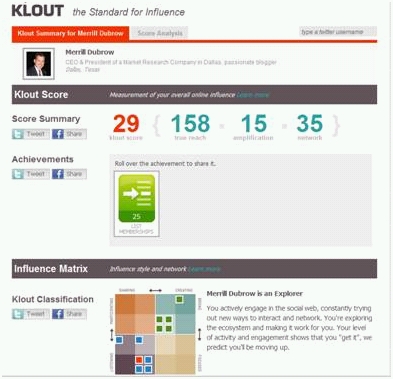 What is your current Klout score?
What do you think of their rating system?
Do you think this will be a trend in the future?
I look forward to hearing your thoughts.