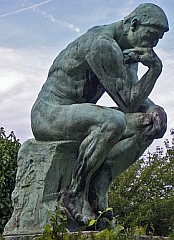 The title of this posting might have made you chuckle but I am serious ask yourself where do you do your best thinking? Before you answer that question let me try and put that into context:
You have a lot on your mind

You have some big decisions to make at work

You just got some troubling medical news

You have to make a difficult decision about your parents
Regardless of the situation – where do you do your best thinking?
Is it in a special room in your house?

At your office?

Is it while you are watching TV or listening to music?
I know this may seem a little odd but I have asked this question of a few people and got some pretty amazing answers. I do my best thinking when I am driving in a car or on a treadmill. For me those two activities give me a chance to decompress and really think about a situation and give me a better chance to make the right decision.
So I ask you……….
WHERE DO YOU DO YOUR BEST THINKING?
I look forward to hearing from you.
PS – Interesting for most people it isn't their office which is amazing considering how much time each of us spends in our office. Probably a future posting on the blog!