Some Friday fun. Most of the readers of this blog fly a lot and typically will walk down the jet bridge and get on a plane. No big deal just a typical and traditional Boeing 737 that all look the same on the outside. Well I just saw a bunch of really cool and creative paint jobs done on planes that I would like to share: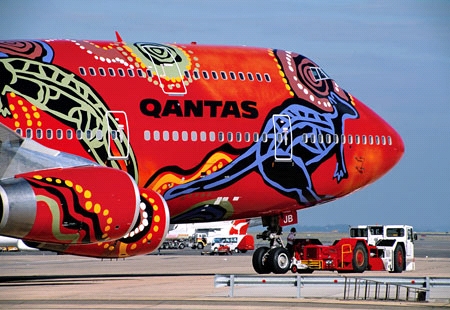 Inspired by the dramatic colors of sunset on Uluru – also known as Ayers Rock – this Boeing 747-400 owned by Qantas represents one of the many dreamtime journeys of Australia's aboriginal people. A wunala is a kangaroo, seen painted on the nose cone, among other places. The artwork blends ancient patterns and symbols with modern technology: Both aboriginal and nonaboriginal artists transferred the design from the computer to the airplane.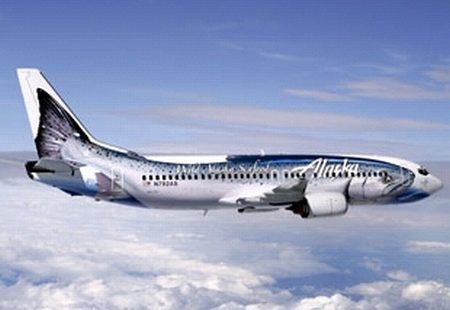 Seattle-based Alaska Airlines flies approximately 30 million pounds of Alaska seafood to destinations in North America and Mexico each year, so in celebration the airline painted a 737 with a silvery king salmon. It took 30 painters and airbrush experts 24 days to complete the elaborate livery, which used up 140 gallons of paint, twice the normal amount. Since it first started flying in 2005, the Salmon-Thirty-Salmon has flown more than 1 million passengers, who are also treated to custom-painted overhead bins with halibut, sea stars and other fishy images.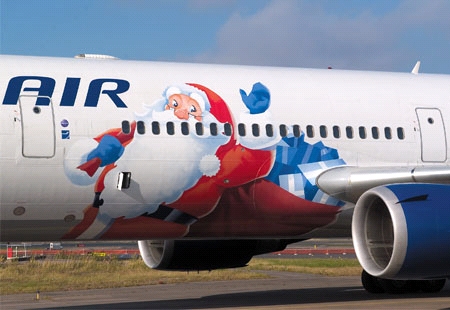 Each winter, FinnAir adds a friendly Santa Claus to its fleet, appropriate considering that it flies to Rovaniemi, the capital of Finnish Lapland. This Arctic Circle city is perhaps more famous for being home to Santa Claus Village. Not into meeting Santa? Travelers can also play ice golf, go on a snowmobile safari and try sautéed reindeer. (Just don't tell Santa.)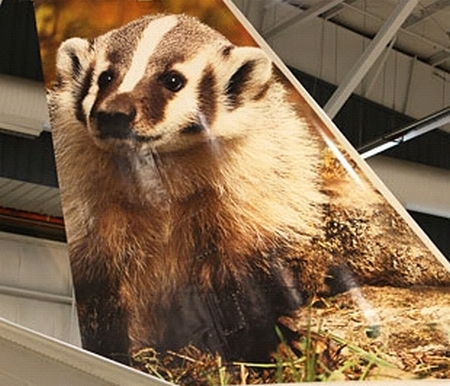 Meet Buddy the Badger, the latest member of Frontier Airlines' stable of animals featured on the tails of its fleet of Airbus aircraft. He joined Larry the Lynx, Trixie the Red Fox, Grizwald the Bear and more than 50 other critters after Frontier Airlines merged with Wisconsin-based Midwest Airlines. His name was chosen by people in Wisconsin after a month long naming campaign.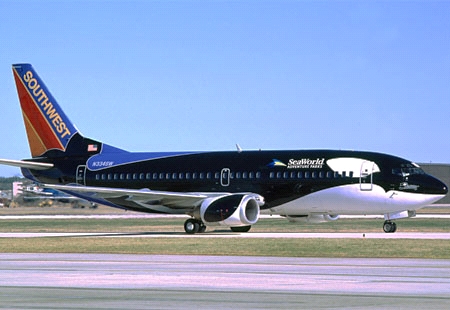 Passengers on Southwest Airlines' Shamu One get to ride in the belly of the beast – a plane painted like an orca to honor the airline's ongoing partnership with SeaWorld. Employees of SeaWorld recently brought some special guests onboard, namely penguins that were catching a ride to the San Diego park. Watch videos of the cute birds stretching their flippers up and down the aisles.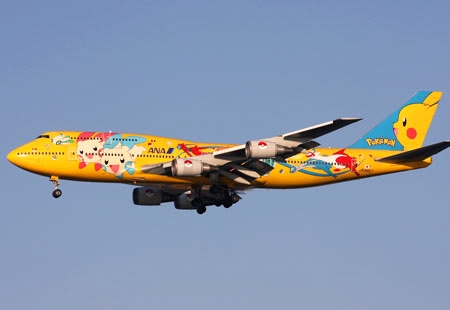 The first anime-themed aircraft, rolled out in 1998 by All Nippon Airlines, was so popular with travelers that the airline launched four more. Fans of Pokemon, Jigglypuff, Squirtle, Mew and the gang can get their anime fix on the interior of these planes as well: The Pokemon theme is used on the headrests, drinking cups and attendants' aprons. All Nippon Airlines is the largest airline in Japan and flies to 76 domestic and international cities including New York, L.A., San Francisco, Chicago and Washington, D.C.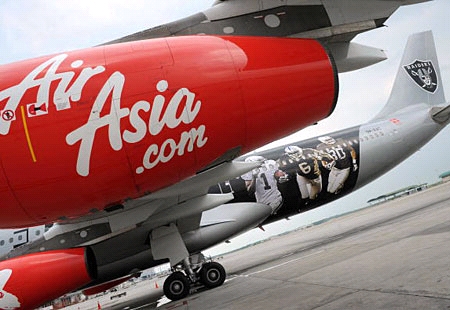 What do you get when you cross an AirAsia jet with an NFL football team? An Oakland Raiders-themed airplane complete with cheerleaders and an eye patch. This black-and-silver Airbus A340 is part of the discount Malaysian airline's fleet, and is one of the many ways the football team is reaching audiences worldwide. (The team's website has translations available in five languages, including Tagalog.) The unique partnership includes an annual giveaway of 1,000 free seats to Raiders home games.
Some of my favorites are the salmon and the badger. The colors and creativenesss of the artist was amazing. My favorite without question is Shamu One! Congratulations to Southwest Airlines for being so creative and making it a little more fun to fly your airplanes.
Which is your favorite?

Have you ever been on a plane that had a wild and creative paint job?

If I gave you a plane as a gift – what type of paint job would you have?
I look forward to reading your comments.