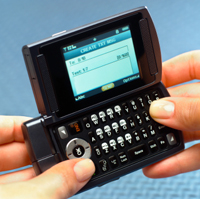 I am pretty excited about this post. I was thinking the other day about how people communicate. It's funny because everyone is a little different and has a different level of comfort depending on their age, use of technology and a number of other things. Some people email through social networking sites, post a comment on Facebook, send an email the old fashion way, once in a while a phone call and yes, I get text messages.
The question is what does it look like now and how will it change in the next year?
Here are my average numbers:
Emails I get through Outlook – 200

Calls – 30

Emails I get through a social networking site like Facebook or LinkedIn – 20

Text messages – 15

Tweets – 5
That is probably an average day for me. Moving forward I would imagine my emails through Outlook will continue to go down while my emails through social networking sites and texts will go up. I am sure potential research vendors will start marketing campaigns very soon – maybe they already have and I am lucky enough not to get any.
Your turn:
What is your average daily communication look like?

How has it changed in the past year?

How do you think it will change in the next year?

What is your favorite way to communicate with friends?
I look forward to reading your comments.