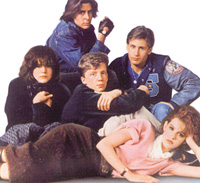 When I hear the term "Brat Pack," I think of actors and actresses who played in a number of movies together.
Some examples are:
St. Elmo's Fire – Emilio Estevez, Rob Lowe, Andrew McCarthy, Demi Moore, Judd Nelson, Ally Sheedy
The Breakfast Club – Emilio Estevez, Anthony Michael Hall, Molly Ringwald, Judd Nelson, Ally Sheedy
The Outsiders – Emilio Estevez, Matt Dillon, Tom Cruise, Patrick Swayze, C Thomas Howell
I am sure all of you can think of many more.
When I hear the term "Brat Pack," I also think of a group of friends that are tight and hang out together for a period of time. That's what I want to discuss today. When I think about my life I guess I have been in a few "Brat Packs."
The first one was in high school. Gary, Andrew, Kenny, Jeff, myself and others hung out together. We played lots of sports and even bowled together (yes, bowled) every Saturday morning in a league. On Friday nights we played poker.
The second one was in college. My college roommates, Kenny, Barry and I were inseparable. In addition, we had other members of the "Brat Pack" that included: Mike, Eli, Joey, Kathy and a few others. Yes, we played sports, yes, we ate most meals together, yes, I cooked hamburger helper (please stop laughing), we played a ton of cards and went out every weekend!
Wow, the good old days!
Ok, your turn.
Tell me about your "Brat Pack."
What was the funniest thing you did as a group?
Did you ever get into trouble?
I look forward to reading your comments.