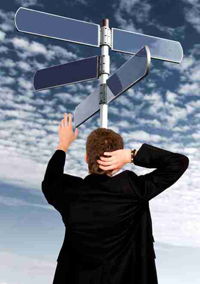 2009 – For me, it was all about speed! Most of the time I was making the right decision but it was taking longer than it should. When I evaluated a new strategy, moved a staff member to a different department, or gave them new responsibilities, I made the right and necessary moves in the end but the extra time cost a few things – time and money. In reality since time is money, the real cost was money and money. I have gotten a little better and smarter since 2009 when making decisions. I try very hard to make them in a more timely fashion.
2010 – For me, it was about bad revenue. I believed for a long time there is NO bad revenue. Well, that really isn't the case. Not all revenue is a PERFECT fit for your company, for your systems, or for your staff! Think about it this way: is some revenue really hard, taxing on the staff and not profitable? If the answer is "yes," (and I am sure it is for most readers of the blog) then it not only brings your profit margin down but more importantly, it takes up company resources and creates very poor morale. For us, we evaluated "bad" revenue and made some very difficult decisions which involved hard discussions with clients regarding price increases, changing staff on some accounts, walking away from business that didn't work for us, or finding better ways to increase efficiencies to ensure the business made sense for us.
2011 – Even though the year is only a few months old, my early learning is to balance growth with profitability. If you have a new strategy, try and find some internal resources behind it, but be careful when hiring ahead of the curve. With the economy being what it is you need to walk before you run.
Have you had some of the same learnings?
What have you learned in the past few years?
What do you hope to learn this year?
I look forward to reading your comments.