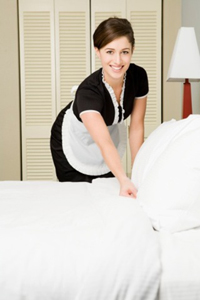 The other day I met a few colleagues for breakfast and they were discussing how much and when they tip the person who cleans their room in a hotel. As I was listening to the conversation I was thinking, "I never do that." I think I am a good tipper and a nice person BUT I never think about leaving money for the chambermaid.
One of my colleagues said they do it after the first night and their thinking was they will get some extras from the chambermaid when they arrive back to their room. The other person said they do it when they are getting ready to checkout of the hotel so if they get great service they can tip accordingly.
I understand both strategies but mine is way different – I leave nothing….. UGH!
Are you like me and do nothing?
Do you always type the chambermaid?
Do you have a formula XXX dollars a night?
Have you always been doing this?
I really look forward to reading your comments.