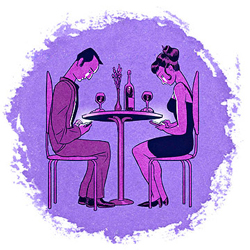 A few weeks ago I had lunch with two colleagues. Since you are curious I will mention we were at a Chinese restaurant. Yes, it was a buffet and yes, it was yummy! During lunch I noticed the table next to us had two guys sitting there who were wearing matching logo shirts. Not sure if it was a landscaping, electrical or some other company. But I can tell you they were both wearing nice logo shirts.
During their entire meal they never talked or said one word to each other! All they did was check out their iTouch. I assume they were reading emails or texting. Regardless, they didn't say a word to each other. Now you could ask, "How did Merrill notice? Was he talking to his colleagues?" The answer is, they were sitting right in front of me, in my perfect line of sight and yes, we were talking throughout the entire meal.
I just don't get it!
If you aren't going to speak with someone during lunch – why go with them? Eat alone!
As we were walking out of the restaurant I noticed that a number of other tables were checking email as well.
Have you noticed the same thing?

What has happened to socialization?

Don't we communicate with each other anymore?

Isn't this a missed opportunity to learn/bounce ideas off someone?
Maybe it is me but I am concerned about this!
I look forward to reading your comments.
PS – If you are curious, I don't bring my Smartphone with me to lunch.