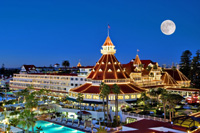 Like most of you, I don't have a ton of business meetings at some of the big, old, grand hotels. I wish I had more opportunities to see or stay in them and who knows, maybe some future conferences will end up in some of those hotels. I read an article last week regarding the Hotel Del Coronado and thought I would write a quick blog about grand hotels.
The Hotel Del Coronado is beautiful, rich in tradition and has GREAT pictures downstairs. I love reading about all the Presidents who have stayed there and the reasons they were there. Traveling over the bridge to get to the island has amazing views and holds a special place in my heart. I also love the Breakers down in Palm Beach. I love a lot of things about it but maybe not the $25 fruit cup! Yes, the hotel is expensive but I love walking out to the ocean and looking back at the hotel. I also love closing my eyes and thinking about who may have walked inside the hotel.
So today I ask you to finish this equation:
I look forward to reading your comments.