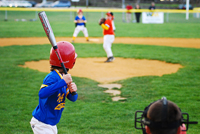 It was another sunny night in Texas and of course, I was at the baseball field. I think my kids have more games than the Texas Rangers do! Ok, that is clearly an exaggeration but they do have a ton of games. I was talking with my son Riley before the game and he told me that one of the coaches said he was the fastest person on the team. Before I tell you what I said you have to realize my son has a PERMANET million dollar smile on his face, a great attitude about life and is in a good mood 99% of the time. With all of that said, he is no Carl Lewis or Lou Brock and let's just say he isn't speedy at all. In fact, he is pretty slow. Ok, back to the story. I said, "Riley, your coach said you were the fastest player on the team?" He said, "Yes Dad, it's that I haven't shown it yet! You see they haven't seen it but since the playoffs are right around the corner I need to run faster!"
Great words, great advice and a great way to motivate a young person for sure! Way to go, Coach!
It made me pause and think about some coaching advice I got. About 40+ years ago I remember a coach saying to me on every pitch, "Think: BOY." I was like, "Boy? Really?"
He said, "Yes, think BOY:
Bases – How many people on base?
Outs – How many outs are there?
You – What are you going to do if the ball is hit to you?"
I must say that advice stuck with me for over 40 years and in fact I think of BOY every time I play a game.
So I ask you – What is the best coaching advice you have ever got?

If you are a coach, what is the best advice you give?
I look forward to reading your comments.