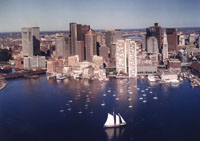 Yes, I was born there; yes, I still have family there; and yes, I love Boston and always will. Here are some things that you might not know about this great city:
There is no school on School Street
There is no court on Court Street
There is no dock in Dock Square
There is no water on Water Street
Back Bay Boston streets are in alphabetical order: Arlington, Berkeley, Clarendon, Dartmouth, etc. So are South Boston streets: A, B, C, D, etc.
If the streets are named after trees (e.g. Walnut, Chestnut, Cedar), you are on Beacon Hill.
If the streets are named after poets, you are in Wellesley.
Massachusetts Avenue is Mass Ave.
Commonwealth Avenue is Comm Ave.
Confused about how to pronounce some of these cities? This guide will help:
Worcester : Wuhsta (or Wistah)
A few definitions you might want to be aware of:
Frappes are made with ice cream; milkshakes are not.
The smallest beer is a pint.
It is not a water fountain; it is a bubblah.
It is not a trashcan; it is a barrel.
It is not a shopping cart; it is a carriage.
It is not a purse; it is a pockabook.
It is not a rubber band; it is an elastic.
The local sports teams:
Things you should know:
Order the cold tea in China Town after 2:00 am and you will get a kettle full of beer.
Bostonians think it is their God-given right to cut off someone in traffic.
Bostonians think there are only 25 letters in the alphabet (no Rs, except in idea).
Bostonians think three straight days of 90+ temperatures is a heat wave.
Bostonians refer to 6 inches of snow as a dusting.
Bostonians always bang a left as soon as the light turns green, and oncoming traffic always expects it.
Bostonians believe that using your turn signal is a sign of weakness.
Bostonians think that 63° ocean water is warm.
I hope these tips help.
What is your favorite thing about Boston?
What do you like to do when you visit?
Do you have a favorite expression that Bostonians say?
I look forward to reading your comments.