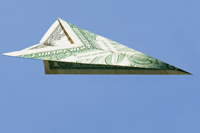 The cost of flying is a little out of control. Actually, some may say it is totally out of control. Fares seem to be changing quicker than the speed of light. A few weeks ago I was checking a flight to the East Coast and every single day the fare changed. Some days it changed over $400 in either direction. Like most, I like a good deal on flights. So here are a few tips that might help:
Recently, I read an article about a few amazing deals:
If you subscribed to "news flash" emails from Travelzoo you could have gotten a $9-each-way flight from Boston to New York City.
Airfarewatchdog recently highlighted a Los Angeles/Las Vegas fare for $18 round trip.
There are other price-finding sites abound, such as:
CheapOair: You can set an "alert" for fares to specific locales.
Yapta: This service tracks prices even after you book. If fares drop you'll be advised how to apply for a refund. This worked for someone on our team and she saved hundreds of dollars on a recent trip!
Bing Travel: Microsoft's search engine combs through more than a billion airfares each day and forecasts whether prices will be going up or down soon. I have never checked this out but it sounds like I need to!
Compete 4 Your Seat: Professional travel agents send you their rock-bottom itineraries.
Wow – lots of ideas for sure. Clearly another indication that technology can help you save money!
Have you tried any of these sites?
What tools are you using to get great deals?
Have you gotten great deal recently?
I look forward to reading your comments.