I was at the airport a few weeks ago and as I was walking down the hallway to my gate I noticed a new ad for Accenture. As I always do I stopped, took a look, paused for a minute, took a picture of the ad and kept thinking about what the words meant and, how does that apply to our business.
I think the ad is very creative and right on target! Opportunity does not always land in your lap! It doesn't always come with fireworks or a bow. I truly believe the most successful companies and executives can identify and evaluate opportunities.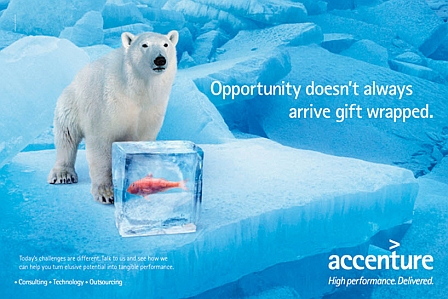 I still remember my dad's words to me as a young kid – he said "son when an opportunity presents itself to you, you need to do two things, first recognize it's an opportunity and second do something about it". Those words have stuck with me for decades – thanks Dad!
The question is:
Do you and your company do a good job of recognizing opportunities?

Who is typically involved in that process?

How do you evaluate opportunities?

Looking back – what opportunities do you think you or your company missed?
I look forward to reading your comments.