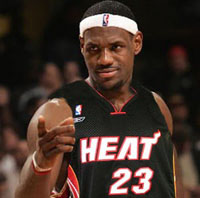 The unusual title of this post probably forced you to read what today's thoughts are:
Yes, LeBron James is very talented.
Yes, LeBron James is one of the best players in the NBA.
Yes, everyone wants LeBron James on their team and would trade to make that happen.
With all that said, most people outside of Miami are not happy with LeBron and his antics.
In my opinion:
It was a bad idea to announce where he was going on national TV.
It was a bad idea to prematurely predict the new "Big Three" will win a ton of NBA titles.
It was disrespectful not to call Dan Gilbert (owner of the Cleveland Cavs) before LeBron publicly announced he was leaving the Cavs.
It was immature to walk down the hall with D Wade and make fun of Dirk and his sinus infection.
However, let's not get caught up in the past. The question is what advice would you give LeBron for next year?
Here is my advice:
Hire the best PR agency (Omnicom has a number of great ones) that money can buy.
See #1 and listen to them! Even though you say you don't care what the public thinks, that is not the case because I believe you are a good person. Also, if you don't change your image it will hurt you badly in terms of endorsements.
During the summer take a presentation course or a skills development class. I wish I had a dollar for every time you had to defend your comments. Subscribe to the Derek Jeter interview process. Derek has been giving interviews for almost 20 years and he still hasn't said anything. Yes, it is bland and humble but you need to do the same thing.
Have fun and let people see it. If you don't, you and D Wade will continue on a collision course that will end with you losing out. Why? Because no matter what, Miami is always going to be considered D Wade's team and city.
Now your turn:
What is your advice?
What do you think of mine?
I look forward to reading your comments.