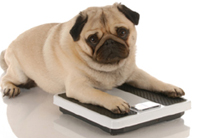 Over the past few months I have had a number of conversations with friends regarding their pets being overweight. I don't have a pet right now but I used to give tons of treats to our dog when I was growing-up. If our dog howled, I gave her a treat. If the dog jumped over the cushions that my sisters and I set-up, I gave her a treat. If the dog did her business outside quickly because it was 10° out, I gave her a treat. I probably gave a treat for anything and everything.
Perhaps you do the same thing.
The question is what do you do if your pet is overweight?
Do you give them diet dog food?

Do you take them on longer walks?

Do you send them to a pet workout facility?
There is actually a Pet Obesity Prevention Association so apparently this is a pretty big problem. You can even rent a treadmill for your dog or enroll them in swimming lessons at a facility in Los Angles called, 'K9's Only.' I promise I am not making this up.
What shape is your pet in?

What are you doing to keep them in shape?

If your dog or cat is overweight what are you going to do about it?
I look forward to reading your comments.