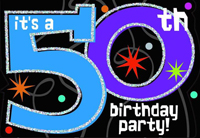 I am getting older and I have had a lot of birthdays. However, next year's is an especially big one for me. The first number is a 5 for the 1st time! I'm not sure how I will feel. Perhaps it will be a big day and really impact my life or perhaps it will just feel like another birthday.
The question is what should I do?
Should I have a party with friends and family?
How about a trip with some guys friends and take in a sporting event?
Should I do something a little more pricey and meaningful and go to a baseball fantasy camp with my dad and uncle?
Should I rent a big house somewhere on a beach for a week and invite the people closest to me?
Clearly, I have lots of choices and time to think about what I want to do.
I could use your help:
What is the best birthday party you have ever attended?
Where was it?
Have you ever thrown yourself a birthday party?
Any other ideas about what I should do?
I look forward to hearing your thoughts.