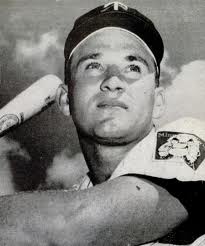 Many times the newspaper, internet and TV is filled with news that makes your skin crawl. The news is full of violent crimes that sometimes are really tough to watch or read about. In the sports world a typical day might be a DUI, another investigation of a college sports program or a retired athlete busted for drug possession.  However, a few weeks ago it was a little different. This day was filled with an announcement from a National Baseball Hall of Fame player. I read a statement from one of the most feared hitters of all time, Harmon Killebrew. He said:
"It is with profound sadness that I share with you that my continued battle with esophageal cancer is coming to an end. With the continued love and support of my wife, Nita, I have exhausted all options with respect to controlling this awful disease. My illness has progressed beyond my doctors' expectation of cure.
"I have spent the past decade of my life promoting hospice care and educating people on its benefits. I am very comfortable taking this next step and experiencing the compassionate care that hospice provides.
"I am comforted by the fact that I am surrounded by my family and friends. I thank you for the outpouring of concern, prayers and encouragement that you have shown me. I look forward to spending my final days in comfort and peace with Nita by my side."
Amazing! How many people would have the courage to do that? To say good bye knowing you are going to pass away in a few short days? I would like to think I would have the strength to do that, but I am not truly sure and I probably couldn't/wouldn't do it.
As a kid I watched Harmon play in Fenway Park against my Boston Red Sox every year. He was as good a player, gentleman and feared hitter as there ever was. Our seats were very close to the field so I could always so a big smile on his face. He appeared to truly love the game.
I won't razzle and dazzle you with all of his statistics or where he ranks on the all-time list. Let's just say he is in Baseball's Hall of Fame.
Harmon, thank you for all you did. Even though I never had the opportunity to meet you, I respect you more as a person than as a player. I will always cherish the your autographed ball I bought years ago and remember your courage and strength for the rest of my life.
What do you think of what Harmon Killebrew did?
Do you think you would have the courage to do what he did?
I look forward to reading your comments.