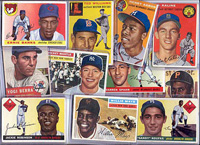 When I was growing up I loved baseball cards, and not just because of the cards, but also because of the gum that came with the cards! It was long, thin and tasted great – a ton of sugar no doubt! I used to love chewing 4-5 pieces at once.
I still have a fairly large baseball card collection. I have a lot of cards in the protected sheets. In fact, I put thousands of cards in sheets before my 10th birthday. I collected cards way before it was a big business. Today, I still like looking at all the old cards. I can remember flipping cards as a kid and playing other "color" games with the cards with my friends – the good old days for sure! If I am at a flea market I will still search out a vendor selling cards to see if I can get a good deal. I never thought about selling my collection. I always planned and still do plan to pass it down to my boys!
I also collected stamps as a kid but I didn't really enjoy that as much. I also used to collect shot glasses. I probably have over 100 of them in all shapes and sizes.
What did you collect as a kid?

Do you still have the collection?

Do you plan on passing it down to your kids?

Do you collect anything now?
I look forward to reading your comments.