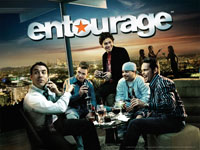 I was recently talking with a colleague about athletes and famous people. The conversation went all over the place and finally ended with entourages. If you were really wealthy, a pro athlete or a famous singer or actor, who would you have in your entourage?
I asked my colleague and right away she said her mom. I chuckled because even though I love my mom, I would never include her in my entourage.
My entourage would consist of a number of people:
Two of my current best friends – to keep my grounded a little bit. They are people I TRUST and no matter what they have my back.
Personal Trainer
Personal Assistant
Publicist – one of the most important people who can help and drive my "brand" in the right direction.
Business Manager
Mentor – a former athlete, singer, etc., who is respected and has gone through what I am about to.
That is the list I came up with. I did consider a driver but I never would consider a personal chef or massage therapist.
It is kind of interesting to think about.
Ok, your turn:
What do you think of my entourage?
Who would be in your entourage?
Would you ever consider having me be part of your group?
I look forward to reading your comments.