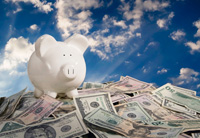 Have you ever said, I wish I could save more money? How about, Wow, it would have been great if I bought that for a little less? Perhaps one of your friends has said, I won't be able to retire until I am 90?
I would argue that most people would like to save more money. The question is, how?
Saving for me isn't about eating at a different restaurant or buying a 15 year old car. Saving for me is about continuing my behavior by eating and shopping at the same places or utilizing the same services but at less of a cost.
Here are a few ways that I have decreased some of my expenses in the past few months:
Cable Bill – Direct TV always seems to have great plans, discounts and bundling options. All you need to do is inquire. A 15 minute phone call can save you $30 per month.
Even though I am not a huge coupon guy, I don't enter a Home Depot, Lowe's or Best Buy store without a 10% off coupon. They send them constantly and they are very easy to find and use.
Energy Bill – most people won't take the time to review other options. Trust me, if you do it you will probably save some $$$.
Wherever you shop sign-up for the store's loyalty program. These savings can add up fast and it still amazes me that most people don't take advantage of this.
My hope is we can build a list of best practices, websites and tricks on saving money.
Your turn:
What are the ways you save money?
Are there any websites you visit that can help?
Please give some recent examples of saving money.
I look forward to hearing from you.