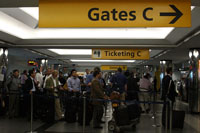 Like most readers I travel a fair amount. My travel involves client meetings, industry presentations, board meets for associations I am on, sporting events or just sitting on a beach trying to relax. All of that is great, enjoyable and productive. The problem is getting there! Traveling these days just isn't as much fun as it used to be. Maybe it is the travel delays. Maybe it is the challenges of changing a ticket without giving up your first born. Maybe it is the lack of information you get from gate agents so you can't make an informed decision on your traveling schedule. Maybe all of that adds up to a lot of frustrated people at the airport who seem to be becoming very inconsiderate and perhaps rude. Here are just a few things that happened on my last few flights:
When they made the announcement for First Class and Executive Platinum, the only person who didn't try to board the plane was a 4 year old.
Prior to take off the person behind me was speaking very loud on her cell phone I truly believe she thought she was a celebrity who was on her own private plane.
No one buys food on a plane anymore. Instead, they bring their own. I must admit some of the smells are tough to take on a two hour flight.
The oversized bag routine – frankly I could go on for 4 pages alone about this one.
What are your thoughts?
Have the delays, the extra charges for everything forced people to be self centered and very rude?
Have you noticed the same things?
What is the worst thing you have ever seen?
What bothers you most about traveling?
I look forward to reading your comments.