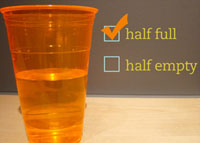 Imagine you are on top of the world. You have a house that you worked for years to make it great for you and your family. All of your possessions are in the perfect place and you are very comfortable.
Then, at the drop of a hat, it's all gone. Well, that exact scenario happened not once but twice this summer to members of our team. In St Louis a tornado touched down a block away from one team member's house, almost destroyed their entire neighborhood and basically left a shell of their home. A few weeks later in a rural part of Texas some type of freak rain storm destroyed another house. I spoke to both of our team members and amazingly they both had great attitudes! I am sure that both of them were really upset, disappointed and frustrated, but I must they never showed it!
I asked one of them how things were going and what we could do to help and here is their response:
"Yesterday was better than the day before so I think we are making progress. I got my internet and voice line hooked up at the rental yesterday which was huge….3 days ahead of schedule. Second adjuster went out to the house yesterday and so we should have the majority of that wrapped up by tomorrow. I'm slowly getting my head wrapped back around the projects I was working on. It seems like I was 'out' for a month, rather than a few days. We have several months of cleanup and rebuilding ahead to put back what was wiped away in 15 minutes… but we are up for it. Thanks for checking."
I must admit her response got me a little choked up especially when she said they had to cleanup what was wiped away in 15 minutes …but they are up for it…
Amazing! What a great attitude and way to go through life. D.N and J.S. – I am so sorry for what you and your family have gone through. I hope I would have the strength and courage to have your positive attitude and outlook if something like that ever happens to me.
Have you ever had something like this happen to you, friends or family?
If so how did they handle the situation?
Shouldn't all of us have a positive attitude no matter what the situation is?
I look forward to reading your thoughts and comments.