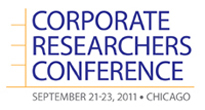 Having grown up in the market research industry, there are a few things that I can predict will happen year after year. When you go to the MRA Fall Conference, you will see lots of people from the data collection end of the business, presenters would be from suppliers and the conference would be in November.
However, all those things appear to be in the past!
The conference is now in September!
The conference is now called The Corporate Researchers Conference!
As of the last count, 40% of the attendees are from corporate America!
The speaker lineup is a who's who of big business with companies like: Taco Bell, Kraft, Madison Square Garden, T-Mobile, American Express, Microsoft and Motorola Mobility.
As I type away the MRA Corporate Researchers Conference has over 350 people registered to attend. NICE JOB! I am very impressed with the changes that the MRA has made and wish them only success. I look forward to experiencing firsthand the revamped conference when members of the M/A/R/C team attend next month.
What do you think of the changes?
Are you planning to attend?
What do you think about the speaker lineup?
Are you excited about the networking opportunities?
I look forward to reading your comments.