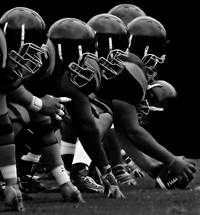 The first person to qualify for the week 17 championship is Sam Picchiotti, a college student who beat 188 people to take the top prize in week 1!
Wow, what a day yesterday! Another week of football and another week with a record number of participants at 194! As of right now Susan Hayes and Bob Tekampe both only got 1 (yes I said 1) game wrong and have 14 wins. If the NY Giants win tonight it will come down to the points on a tie-breaker and if the St Louis Rams win then Scott Barrentine would be in the mix as well. Lots of questions to be answered in the weeks to come:
Are the Buffalo Bills and Detroit Lions for real?

Will Tony Romo be able to play at a high level with a fractured rib?

Will the New England Patriots go undefeated?
To see the current standings, click here. The results page shows this week's current standings as well as the cumulative rankings.
Remember, the weekly winners will receive $50 and be given a spot in the grand prize pool during week 17 for an opportunity to win $400 and of course bragging rights for the next 6 months. In addition, the two people who have the highest cumulative score (these standing will be updated weekly) will be given a spot in the grand prize pool along with the weekly winners.
Click here to participate in this week's pool.
Feel free to share the link and have friends, colleague, relatives, kids and anyone else you want join the pool.
Good luck to all.