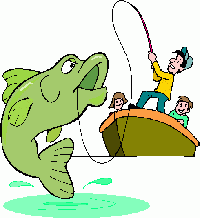 Last month I was traveling and saw a number of fishermen on a pier. They looked really happy swapping fishing stories while they were drinking beer and hoping to catch dinner.
Even though I was at Cape Cod every weekend when I was growing-up, I never really got into fishing. I tried it a few times. Maybe it was the smell of the bait, getting up early in the morning or trying to take a hook out of a bloody fish mouth that turned me off.
I remember fishing once about 10 miles off the coast of Cape Cod. I caught a few fish, including –get this –a four foot squid! I was shocked when I pulled it in – oops –I mean reeled it in and needed help cutting the line.
I haven't caught a big fish yet but I might give it a whirl with my son who enjoys fishing very much.
What do you like to fish for?
Have you ever caught a marlin or shark?
What is the funniest fishing story that you can share?
What is the biggest fish you ever caught?
I look forward to reading your comments.