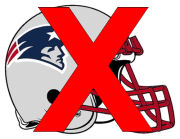 The second person to qualify for the week 17 championship is Bob Tekampe who joins Sam Picchiotti as the first two members of the club.
Another amazing day in the NFL yesterday. The NE Patriots blow a 21 point lead and lose to the Buffalo Bills, the NY Jets Lose, the Philadelphia Eagles lose to the NY Giants. In case you were wondering I got all of those games wrong in fact the only person who got them ALL right out of the record 197 people who played this week was Mike Cronin. If Washington wins tonight he wins the pool. If not it will come down to a tie-breaker with Couldbstu.
To see the current standings, click here. The results page shows this week's current standings as well as the cumulative rankings.
Remember, the weekly winners will receive $50 and be given a spot in the grand prize pool during week 17 for an opportunity to win $400 and of course bragging rights for the next 6 months. In addition, the two people who have the highest cumulative score (these standing will be updated weekly) will be given a spot in the grand prize pool along with the weekly winners.
Click here to participate in this week's pool.
Feel free to share the link and have friends, colleague, relatives, kids and anyone else you want join the pool.
Good luck to all.