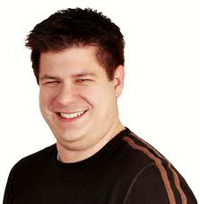 I must admit I am on Google every day and sometimes every hour. Well Google has a new feature that is called Google+. Since I am not an expert on this and I know someone who knows 10 times more than I do about the social space and world I thought it would be a great time to tap into the brilliant, creative and big brain of Eric Swayne.
With that said, here are a few burning questions I had for Eric…
It's been reported that Google+ has over 25 million users – is that significant compared to Facebook's 750 million?
Of course Facebook has the larger total audience right now, but there are a few reasons why Google+'s numbers are captivating:
Google+ is far and away the fastest growing social network ever, and could even be the fastest growing website in history: http://www.businessinsider.com/google-plus-growth-25-million-users-2011-8
G+ is still in a beta testing phase – meaning Google is throttling the number of invites handed out and limiting new signups. Meaning, this network isn't yet growing at the rate it could be
Right now, G+ is attracting almost all of the most socially active users on the web – practically everyone any measure would label as an "influencer" is on there. Now is a great time to learn this platform and interact with these voices.
What's the coolest feature of G+?
I'd say it's a tie. First, G+ is based around Circles, which are groups of friends you create. If you include me in your "Friends" Circle, and then post content on G+ just for "Friends", I'll get to see it but others that aren't in that circle won't. Moreover, you can include me in a Circle without me doing the same – we can follow each other's' content at different levels. It's this understanding of the varying levels of friendship we all have that makes G+ really powerful.
Hangouts is another feature just as fascinating – this enables real-time video chat between up to 10 G+ users at once. This feature brings some high-end telepresence features to the masses, and all for free through a very light-weight browser plugin. Facebook has video chat as well, but right now it's only one-to-one – so there's no way to invite others to join you. With G+ you can announce to any of your Circles that you're in a Hangout, and they can come join at any time.
Is G+ the next Facebook?
G+ has a lot of similarities to both Facebook and Twitter, but I don't think you'll see it completely supplant either of those. I've heard many stories from other G+ users that they've started spending less time on Facebook or Twitter, but they still see the utility of each. G+ also offers brands some very different opportunities from Facebook with Circles and Hangouts – tools that will enable brands to become really effective Community Managers and interact with consumers at a very personal level. I think you'll see brand campaigns span multiple platforms, and smart social marketers will take advantage of the best capabilities within each.
I thought I heard that brands weren't yet allowed on G+ – is that true?
As of this moment, G+ users must be actual people using their actual names – brands are not supposed to use G+ from a personal profile. This hasn't prevented some brands from doing it, and Google has left some of these profile/brand hybrids up as "test cases", such as Breaking News (https://plus.google.com/109610954243983229925/posts), Mashable (https://plus.google.com/101849747879612982297/posts), and Ford Motor Company (https://plus.google.com/114277687548103339609/posts). Google has said they are working feverishly on a "Brand Page" type of profile, and will release that soon. In the meantime, Google has actually received some flack for deactivating accounts that appeared to be using pseudonyms or brand names.
How will you use G+ in Marketing Research? What are the implications of this platform for Researchers?
As with every new social network, G+ offers us new ways to connect with consumers and find out what marketing actions will best influence their behavior. G+ will allow us to have very intimate and insightful conversations by letting us limit sample groups through Circles, and interact with them through real-time tools like Hangouts. I can easily see G+ being a great tool for interacting with a Consumer Advisory Panel on a regular, long-term basis. G+ is also going to let us see new ethnographic behaviors – since users are coming to the network with a "clean slate," we can see how users are conducting social actions now that they've had some training from Facebook, Twitter, and even MySpace. For example, photographers have quickly gravitated to G+ over Flickr, because it provides them new (and free) ways to share their art, where Flickr wasn't innovating.
I think anyone in the Research field should grab an invite (click here to get one while supplies last: https://plus.google.com/_/notifications/ngemlink?path=%2F%3Fgpinv%3DY916-Gq043E%3A7CIErYxx3ro) and start using this network – and not just because I'm "the social media guy." What we have here is a brand new social platform that has a genuine chance of taking off and becoming every bit as relevant as Facebook. Learning the lessons of what works here before it gets huge is an invaluable education, and the kind you can only learn for yourself.
Thanks Eric – I really appreciate your time, insight and comments.
Now your turn:
Have you registered for Google+?
What do you think of Google+?
Do you agree with what Eric said?
Do you have a specific question for Eric?
We look forward to reading your comments.
PS – Eric is Director, Social Analytics and Insights for M/A/R/C® Research