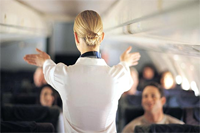 Once in a while I think about what I would do if I were in charge, if I made the rules and if everyone had to listen to me. So there I was, I just boarded a plane, I was trying to get into my small yet comfortable seat and prepare for a 2 hour flight. The next thing I knew everything was pretty much utter chaos! No one was listening to the messages over the loud speaker, everyone was pretty much doing whatever they wanted, when they wanted and where they wanted. I am sure this all sounds familiar. Well, I have an answer. Since no one listens to flight attendants, give them the power to give out tickets! Yes, tickets, if customers continue not to listen to the rules.
Here is a sample of offenses and ticket prices:
Boarding a plane is ONE-way. The aisle doesn't accommodate two-way traffic. Going the wrong way is a $100.00 fine.
Bringing a meal on the plane at your own risk. If you drop the entire meal in the aisle (yes, this happened a month ago) the cleanup is a $200.00 fine.
If you try and get your luggage out of the overhead bin while landing you get a $300.00 fine.
If you are Speedy Gonzalez sitting in row 26 and believe you can push and shove to beat the person off the plane who is in row 8, you are not only out $500.00, you are told to sit down AND will be the last person allowed to get off the plane.
I realize that some of you are saying, 'Wow, I am glad he isn't in charge,' while others might be saying, 'Merrill might be on to something.'
What do you think of my plan?
Do you believe the fines are the right amounts?
What other things would you fine passengers for?
How many people would have gotten fined on your last flight?
I look forward to hearing your comments.