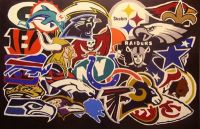 First J. R Venza goes 16-0 which was amazing and now Rick Hurwitz runs the table and stands at 12-0 for the week which means tonight's game doesn't matter! Congratulations to Rick Hurwitz for winning the pool, a perfect week so far and a place in the championship week. You have joined: Clay Dethloff, J.R. Venza, Sam Picchiotti, Bob Tekampe & couldbStu – by the way all of the winners this year have been men – ladies time to step up!
For the cumulative standings Steve Schlesinger (the only person out of the entire pool to have at least 10 wins a week) shares the top with Erin Jewell, Andrew Dixon and Casey Turner who all have 66 wins!
To see the current standings, click here. Four people have 56 wins and are in the lead in the cumulative rankings. Included in the list is Willie Martin who has at least 10 wins in every week. The results page shows this week's current standings as well as the cumulative rankings.
Remember, the weekly winners will receive $50 and be given a spot in the grand prize pool during week 17 for an opportunity to win $400 and of course bragging rights for the next 6 months. In addition, the two people who have the highest cumulative score (these standing will be updated weekly) will be given a spot in the grand prize pool along with the weekly winners.
Click here to participate in this week's pool.
Feel free to share the link and have friends, colleague, relatives, kids and anyone else you want join the pool.
Good luck to all.