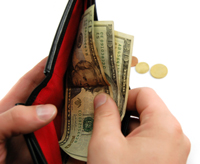 Today's blog is a little different. The subject is money! Probably everyone doesn't have enough money but that is not what I want to discuss today! I would like to start with a quick story. I was at CVS last week buying a few items. My transaction was $6.52 and so I gave the terrific customer service person a $20 dollar bill. She gave me the correct change, which was $13.48. She handed me the bills which were 3 (ones) 2 (fives) and some coins and as I was putting my change into my wallet she gave me a very odd look – almost like she was saying, what are you doing? What I was doing was putting my bills in my wallet smallest to largest and all the bills facing forward.
I never thought that was odd but she did. As I started to look around, the next person who paid had her money jammed into her wallet folded lots of different ways. This really got me to think –is the way that I do it the norm? I assumed it was but perhaps not? Also, this got me to think about how we really don't use cash for much anymore – I wonder how much money my friends and industry contacts typically have in their wallet?
So I ask you:
How do you arrange your money in your wallet?
Do you think I am strange for having the bills smallest to largest?
Do your bills face forward like mine do?
I usually carry $200.00 in my wallet – What is your average?
How often do you go to an ATM?
When I go to the ATM I usually take out $300 – How much do you usually take out?
I really look forward to hearing your thoughts.