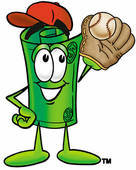 It was another day in Texas with great weather and baseball. My son J was about to take the mound as the starting pitcher but first I needed to speak with him to give him a few pointers and a little advice.
Here is what I said:
"J, you have a strong arm. All you need to do is play catch with Will (the catcher) and you will be great. Throw strikes. Don't worry about how fast you are throwing."
As he was walking away I said (not sure why) one more thing. "For every strikeout you get today I will give you $2 and for every walk you give me a $1." He said, "Seriously, Dad? Really?" I said, "Yes, does that sound fair?"
Before I tell you what happened let me say that J is a GREAT kid and he has a strong arm BUT he isn't usually that accurate and tends to walk a lot of people.
The 1st inning started. He threw a lot of strikes and hit 2 out of the first 3 batters. He settled down and then struck out 2, walked 1 and gave up 2 runs. As he is walking off the field he says to me, "You owe me $3."
Maybe this is going to work.
The second inning comes and goes. His line for the day was 49 pitches (50 is the limit) with 38 strikes, 21 balls, 4 strike outs and 3 walks. His team won 12-2, he was the winning pitcher and yours truly is out $5!
What do you think of the incentive I used?
Do you agree with what I did?
Have you done something like this for your kids?
Do you believe the incentive helped his performance?
Should I offer him the same incentive for next week's games?
I look forward to reading your comments.