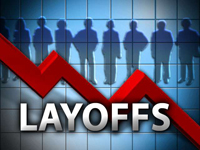 Unfortunately with the economy the way it is right now lay offs are happening very often. Whether it happened to you, a friend or a loved one, I am sure you have heard of this happening in the past few years.
Let's not get into the reasons why someone gets laid off but rather what to do when it happens. Here are five things to start the list:
Don't do anything for a week. Relax, go workout, read a book or spend time with the kids. Do anything but look for a job right away. Here is my reason why. Take the time to think about what happened, what you should do next and most importantly, map out a plan. Take a little time to really figure out what you want to do.

Stay positive. Yes, you are upset. You have reason to be upset but if you are angry potential employers will be able to sense that and may not hire you because of your anger.

Don't bash your previous employer. It is a very small world and although it might feel good for a few minutes to bash them, it is a possibility that it will backfire.

Rely on your inner circle and industry contacts. If you are as old as me you have lots of industry contacts. Now is the best time to use them. They can help review your resume, point you in the direction of resources to use and identify potential jobs.

Update your LinkedIn status first and your résumé second. In this day of technology, LinkedIn (I have over 2700 contacts) is more important than anything else.
Ok your turn:
If you were laid off what did you do?
Are there any job listing sites that you recommend?
Do you have any advice for people who are currently going through this?
I look forward to reading your comments.